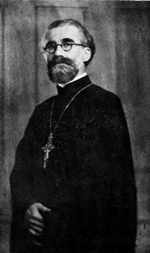 Editor's note: The following biography of Archbishop Michael Konstantinides of the Greek Archdiocese was written by Presbytera Nikki Stephanopoulos and originally appeared on the GOA website. It is reprinted with permission from the Greek Archdiocese of America.
His Eminence Archbishop Michael served as spiritual leader of Greek Orthodox Christians in the Western Hemisphere from 1949 until his untimely death in 1958. A noted scholar, theologian, pastor, ecumenist, author and administrator, he is most remembered as a man of deep spirituality with a devotion to his sacred mission of promulgating the Faith in the United States. A man loved and respected for his exemplary life and for having personalized the motto of his beloved Greek Orthodox Youth of America (GOYA). "Live Your Orthodox Faith", his nine years as Archbishop in the Americas were a bridge between Archbishop Athenagoras and Archbishop Iakovos.
Born Thucydides Constantinides on May 27, 1892, in Maronia, Western Thrace, he was admitted to the Halki Theological School in 1907. He was ordained to the Diaconate in 1914 and assumed the ecclesiastical name of Michael. He taught at Halki for one year and did his post-graduate work at the historic seminaries of Kiev and St. Petersburg, where he was an eye-witness of the Bolshevik Revolution. In 1919 he was ordained priest in Constantinople and appointed pastor of St. Stephen Church. In 1923 he was appointed Chancellor of the Archdiocese of Athens and All Greece and from 1927 to 1939 he served as Dean of the Cathedral of Saint Sophia in London. During his priestly tenure he represented the Patriarchate at the Assembly of Faith and Government at Lausanne of 1927, and as representative of the Church of Greece at the Conference of Anglicans and Orthodox in London in 1930.
In 1939 he was elected by the Holy Synod of Greece as Metropolitan of the ancient historic Apostolic Diocese of Corinth. As Metropolitan of Corinth, with his own money he established a small general hospital and organized soup kitchens for the poor, and a library to educate faithful. He established an Ecclesiastical School, Philoptochos Society and afternoon and Sunday schools. He established the St. Paul Association, held spiritual gatherings and Sunday Bible study. Metropolitan Michael could not imagine a parish without a preacher, Sunday school or philoptochos society.
ARCHBISHOP OF NORTH AND SOUTH AMERICA
On October 11, 1949, the Holy Synod of the Ecumenical Patriarchate elected him Archbishop North and South America and he was enthroned December 18, 1949 during a four-hour service attended by 2,000 at Holy Trinity Cathedral. In his comments Archbishop Michael thanked President Harry Truman and the American people for recent moral and material aid to Greece and declared his mission would be to build upon native traditions in making 1,000,000 Greeks better American citizens. He emphasized the place religion had taken in Greek life particularly as a fortifying element against totalitarianism.
Archbishop Michael was internationally known as an outstanding theologian, writer and administrator who wrote many theological treatises in Greek and English. He was also a linguist and was fluent in Greek, English, French, Russian and Turkish. Highly regarded in religious, education and government circles, he received honorary degrees from Yale University, St. Vladimir's Theological Seminary and General Theological Seminary. In 1954 Archbishop Michael represented the Ecumenical Patriarchate at the Second Assembly of the World Council of Churches in Evanston, IL and in recognition of his many services to the Church and other Christian groups was elected as one of the six presidents of the WCC.
A dynamic hierarch, his pastoral virtues excelled. In 1950, he officiated and gave sermons in 107 parishes and traveled 46,952 miles by airplane, train and car. He also was the first Greek Orthodox Archbishop to travel to South America and had extensive discussions with Juan and Eva Peron in Argentina. In a report to Patriarch Athenagoras On July 21, 1951, His Eminence said:
 I was successful in persuading President Peron to permit the immigration of 50,000 Greeks to Argentina for a span over five years and having clothing (produced by Greek women in Buenos Aires factories) sent to Greece, without any hindrance, for the orphan victims of the rebellion, as well as financial assistance from the Greeks to friends and relatives in Greece, wounded by the despicable plague of communism. Mrs. Peron recalled the prayers offered by Your All Holiness on the occasion of Mr. Peron's illness and asked me to convey to Your All Holiness her fervent gratitude and thanks  The President himself said that he will be at my disposal for any matter that relates to our Greek brethren in Argentina.
Another significant contribution of Archbishop Michael was to continue the efforts of Archbishop Athenagoras to obtain recognition of Orthodoxy as a major Faith in the United States. He succeeded in having this resolution passed in twenty-six states.  The recognition led the Congress to adopt a bill that recognized Eastern Orthodox in the Armed Forces as separate from Catholics and Protestants. Because of this, Orthodox Christians included the initials E.O. for Eastern Orthodox on their tags.
Archbishop Michael's efforts were recognized at the highest level when on January 21, 1957, he became the first Orthodox hierarch to take part in the inaugural ceremony of a president, that of Dwight D. Eisenhower, by delivering the invocation. Earlier, on September 30, 1956, President and Mrs. Dwight Eisenhower participated in the laying of the cornerstone of Saint Sophia Cathedral in Washington, DC. First attending the Divine Liturgy and at the conclusion an overflowing crowd of over 1000 witnessed the President as he approached the foot of the altar and was presented with the Golden Cross of St. Andrew fastened around his neck by the Archbishop;  Mrs. Mamie Eisenhower received a similar medal. It was a moving and historical moment (to be recognized also on the front page of the New York Times the next day). as the Archbishop blessed the President and Mrs. Eisenhower with these words:
May the Almighty and Everlasting God, our common Heavenly Father whom we know and love through our common Savior, the Lord Jesus Christ bestow upon you and Mrs. Eisenhower and all your family the best of health and all His blessing so that you, Mr. President, carry on the most effective way your high and responsible duties to the benefit of our dearly beloved America and the freedom living peoples and nations of the world.
Recognizing the financial and spiritual needs of a growing national church, Archbishop Michael proposed at the 1952 Clergy-Laity Congress in Los Angeles an increased family obligation to the Archdiocese, first introduced at the 1950 Clergy-Laity Congress in St. Louis.  For ten years, the monodollarion, or one dollar per family obligation, instituted by Archbishop Athenagoras, had sustained the needs of the Archdiocese. Archbishop Michael urged the Congress delegates to approve the dekadollarion, or $10 per family.
On May 28th, 1958, Archbishop Michael opened the doors to St. Michael's Home, the only Archdiocesan institution serving the needs of elderly Greek Orthodox. He also created the Office of News and Information/Public Relations, brought about acceptance of the Uniform Parish By-Laws of the Archdiocese and gained membership for the Archdiocese in the National Council of Churches of Christ.
GREEK ORTHODOX YOUTH OF AMERICA
Archbishop Michael's accomplishments and innovations were many and varied. Foremost, however, was the founding of the Greek Orthodox Youth of America (GOYA) In a message to the 6th GOYA Conference in Los Angeles, July 15th, 1957, His Eminence concluded with these words:
As modern Americans of Greek descent you will accomplish much; but in attaining worldly destinies, never forget that as members of GOYA, you who  are our pride and hope belong to an essentially religious organization, and whatever you attain on this earth is, in the last analysis, of little value without a deep and firm belief in the tried and tested religion of your forefathers.  Adhere firmly to this faith, observe strictly its tenets, and in so doing you will in fact realize the motto of GOYA and truly live your Orthodox faith, thus becoming better Christians and better American citizens worthy of your noble Greek descent. With all my blessings for the future, in the name of our Lord Jesus Christ.
The untiring efforts of the Archbishop paid off. GOYA became the most vital segment of the Archdiocese with chapters in practically every community of the country. By the time of its founder's death, GOYA had reached a membership of over 30,000.  The 1957 Birmingham GOYA Conference approved a National Memorial Chapel Drive to raise funds for a Chapel to be built on the grounds of Holy Cross School of Theology in Brookline, MA. Under the chairmanship of Ernie and Vickie Villas, GOYA pioneers, a goal of $150,000 was set, funds were raised and the magnificent Holy Cross Chapel became a reality – dedicated to Archbishop Michael and the Greek immigrants, the parents, who established Orthodoxy in the Nation, nurtured it, sacrificed and saved for it and placed it in the hands of new generations for safekeeping.
LAST PUBLIC APPEARANCE
The Grand Banquet of the 14th Biennial Congress at Salt Lake City was on July 5th, 1958 with almost 1000 people in attendance and had as the main speaker Howard W. Pyle, deputy assistant to President Eisenhower. He spoke eloquently on the importance of the Churches to American life and world peace. Leaving his sick bed again, Archbishop Michael told the delegates that "our Church never felt it has a monopoly of salvation" over other religions. He declared, "We must co-operate with other Christian denominations all over the world to settle social and moral questions".
He concluded his remarks by referring to St. Paul's famed epistle on agape: "Now abideth Faith, Hope and Love, of these, Love is the greatest." And as he stepped down from the rostrum and prepared to depart for his coming struggle with death, which was to claim him a week later, he looked at the GOYA representatives and with a benign and prophetic smile he told them:  "Look after GOYA".
Immediately following the banquet, he was flown to New York by an army plane sent by President Eisenhower, and entered Doctors' Hospital, where he was operated on for an intestinal disorder. He died in Doctors' Hospital on July 13.  Funeral services for Archbishop Michael, the first Greek Orthodox Archbishop to die in the United States, were held on July 17 at Holy Trinity Cathedral. Bishop Germanos of the Southern States Diocese, later to be named Patriarchal Vicar of the Archdiocese, officiated, assisted by five Greek Orthodox bishops, Archbishop Athenagoras of Great Britain and Metropolitan Germanos of Elias, Greece. Attending also were Archbishops and Bishops of Orthodox churches in the United States and over 150 priests from every state in the union. Also, in attendance were many religious, diplomatic and government officials.
[This article was written by Presbytera Nikki Stephanopoulos. Copyright Greek Orthodox Archdiocese of America and used with permission.]