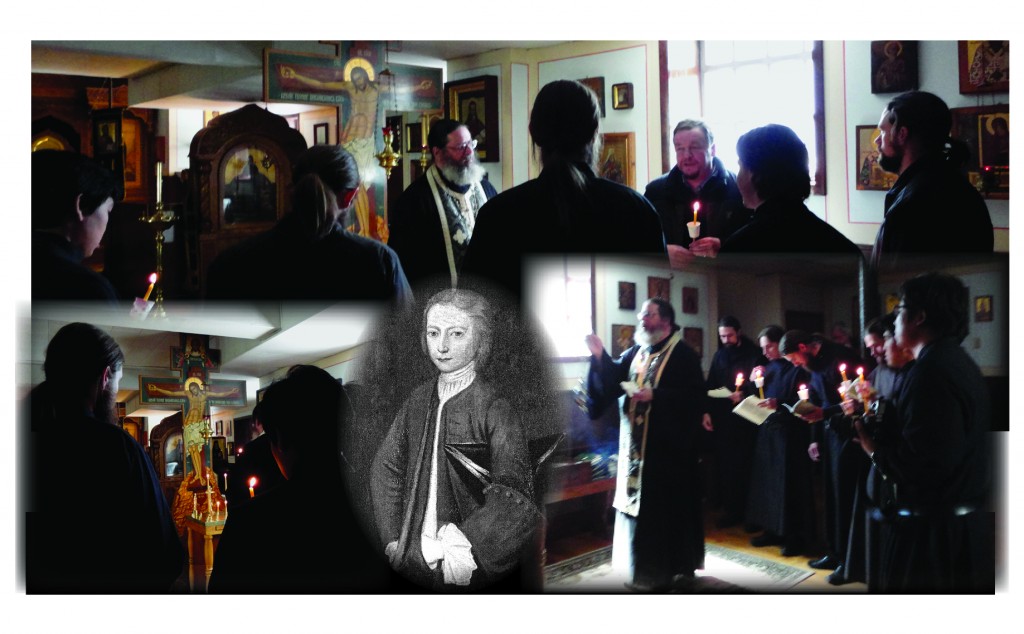 Tuesday, March 14/27, 2012 marked the two hundred and forty fifth anniversary of the repose of Colonel Philip Ludwell III, a native of Williamsburg, Virginia. The metrical books of the Russian Orthodox Church in London, England record that Ludwell died at his home in London at 5p.m. on March 14 O.S., 1767, having previously been confessed and received holy communion and holy unction. His funeral was served several days later in the London church. He is the first known convert to Orthodoxy in the Americas, having traveled from Virginia to be received at the Russian Orthodox Church in London, England in 1738. Further details of his life may be found elsewhere on this site.
With the blessing of Archimandrite Luke, Abbot of Holy Trinity Monastery in Jordanville, New York, a memorial (panikhida) was served in English by Archpriest Gregory Naumenko, rector of the Protection of the Mother of God Church in Rochester, New York, who teaches pastoral theology and homiletics at Holy Trinity Seminary. Responses were sung by a small choir of seminarians under the direction of Reader Ephraim Willmarth, who is the administrative assistant to the dean of the seminary. Members of the monastic community and local Orthodox believers also joined in the prayers. Archpriest Gregory also remembered the other known Orthodox members of Colonel Ludwell's family: his daughters Hannah, Frances and Lucy, and the latter's husband John Paradise. A short reflection on the significance of Colonel Ludwell's life for the Orthodox Church in Russia and the Americas, and his role in early American history, was offered by Nicholas Chapman before the commencement of the memorial.
On the evening of the same day a pahikhida was also served at the St. John of Kronstadt Russian Orthodox Memorial Church in Utica, New York. The parish's rector, Archpriest Michael Taratuchin, when announcing the service on the previous Sunday, had noted that his own place of birth was very close to the church in the East End of London, where Colonel Ludwell was buried in 1767. Archpriest Michael chose to remember Colonel Ludwell as a voina (warrior) because of his role in the appointment of the young George Washington as a colonel in the colonial militia and his work with Lord Loudon (Commander in Chief of British Forces in North America), with whom Ludwell interceded for the strengthening of the Virginia frontier.
Both memorials were served with the blessing of Metropolitan Hilarion, the first hierarch of the Russian Orthodox Church outside of Russia, in his capacity as the head of the ROCOR diocese of Eastern America. It is not known to the writer at the present time whether other memorials were held on the same date elsewhere or on the date of Ludwell's repose according to the revised Julian (new) calendar.
May Colonel Philip Ludwell's memory be eternal!
Nicholas Chapman, Herkimer, New York, March 28, 2012