As best I can tell, there are 941 active, canonical Orthodox bishops in the world right now. Give or take.
Compared to the 19th century, that's a big increase — in 1859, we had just 278 bishops worldwide. But at the time of the First Ecumenical Council, there were a reported 1,800 bishops in the world — about 1,000 in the East and 800 in the West. And that's for a much smaller population of Christians.
The largest share of the world's bishops, by far, belongs to the Moscow Patriarchate, at 40% — 377 bishops (including the bishops of the Ukrainian Orthodox Church and ROCOR, among others). Next is the Patriarchate of Constantinople at 14% (130 bishops) and the Church of Greece at 11% (100 bishops):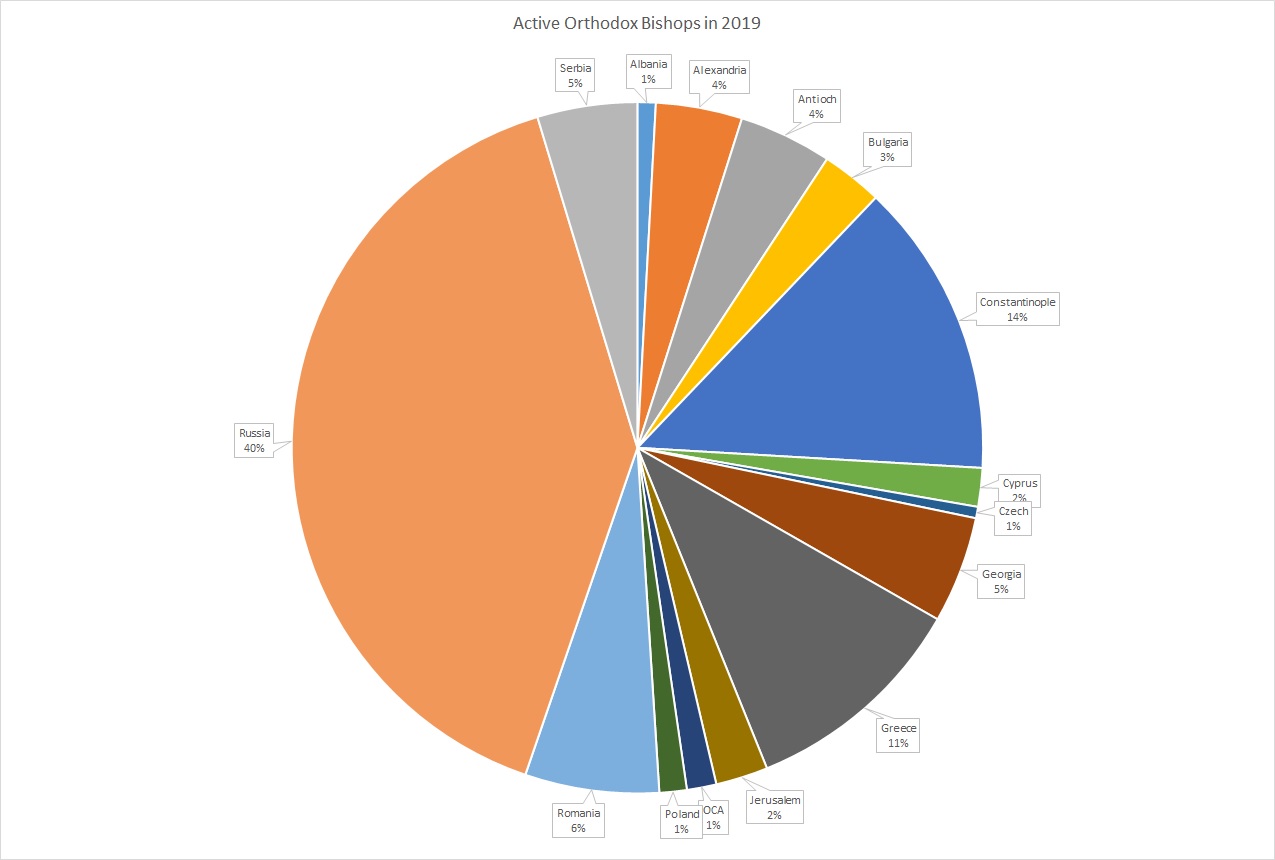 Accurate population data for Orthodoxy is notoriously difficult to come by — it all depends on how you define "Orthodox." But I did my best to track down population data for the various Orthodox Churches in the world, and it adds up to about 222 million Orthodox Christians worldwide (which, to be honest, is probably on the high end). That works out to 236,000 people per bishop, which seems just absurdly high. Interestingly, though, that ratio is identical to the ratio of people to bishops in 1859 — 236,000 to 1. That's a big change from the time of Nicaea, when the ratio was somewhere between 5,000 and 20,000 to one.
The people-to-bishop ratio varies a lot among the various Churches — the Churches of Russia, Romania, Bulgaria, and Serbia all have incredibly high ratios, well over 150,000 to one. The OCA and the Alexandrian, Czech, and Jerusalem Churches are all under 20,000, closer to the way things were at the time of Nicaea. Of course, a lower ratio doesn't necessarily mean more pastoral care — Jerusalem (and Constantinople, with a ratio of around 26,000 to one) has a lot of active bishops who are serving in some kind of administrative role, not actively tending flocks.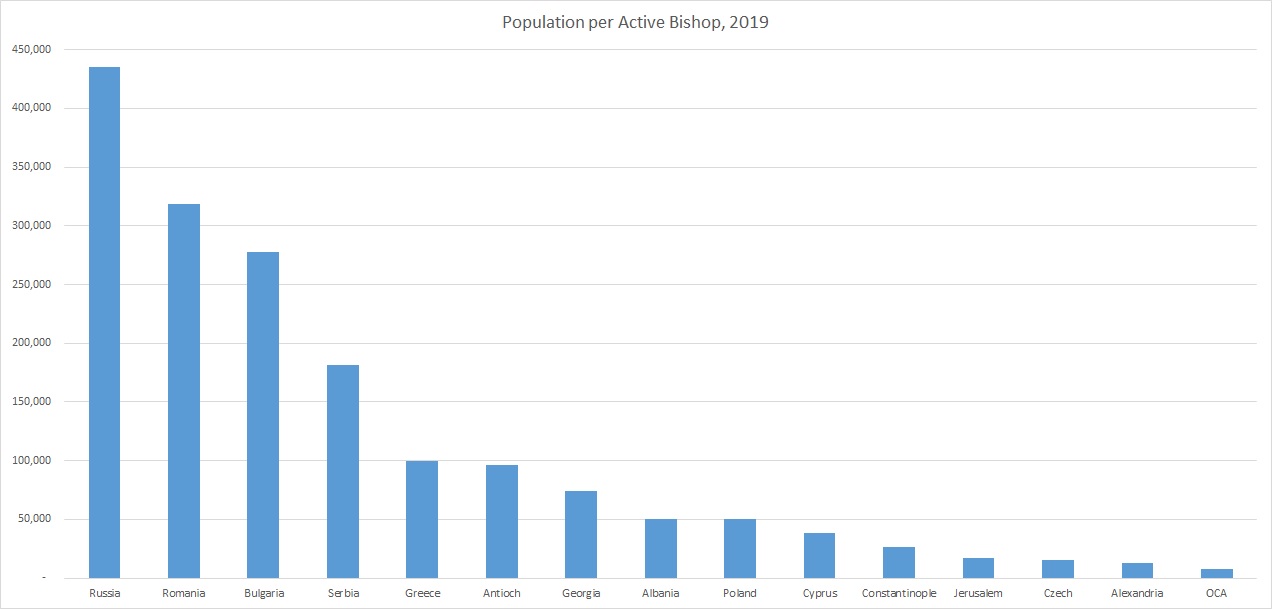 As I said, globally, the ratio of people to bishops is identical today to what it was in 1859. But back then, there was far more variation among the Churches — Russia's ratio was an outrageous 769,000 to one, while Alexandria and Jerusalem were both at just 1,000 to one.
Overall, to get back to Nicaean-era ratios, we'd need more than ten times as many bishops as we currently have. Obviously that's not going to happen — we would need 10,000+ bishops, when we actually have less than 1,000. I'd be surprised if there were 10,000 men on earth who are both canonically eligible to be bishops and are remotely suited for the job. But then, in the days of Nicaea, the role of the bishop wasn't exactly what it is today. For better or worse, it has evolved from a locally-focused pastoral position to more of a high-level administrative job.