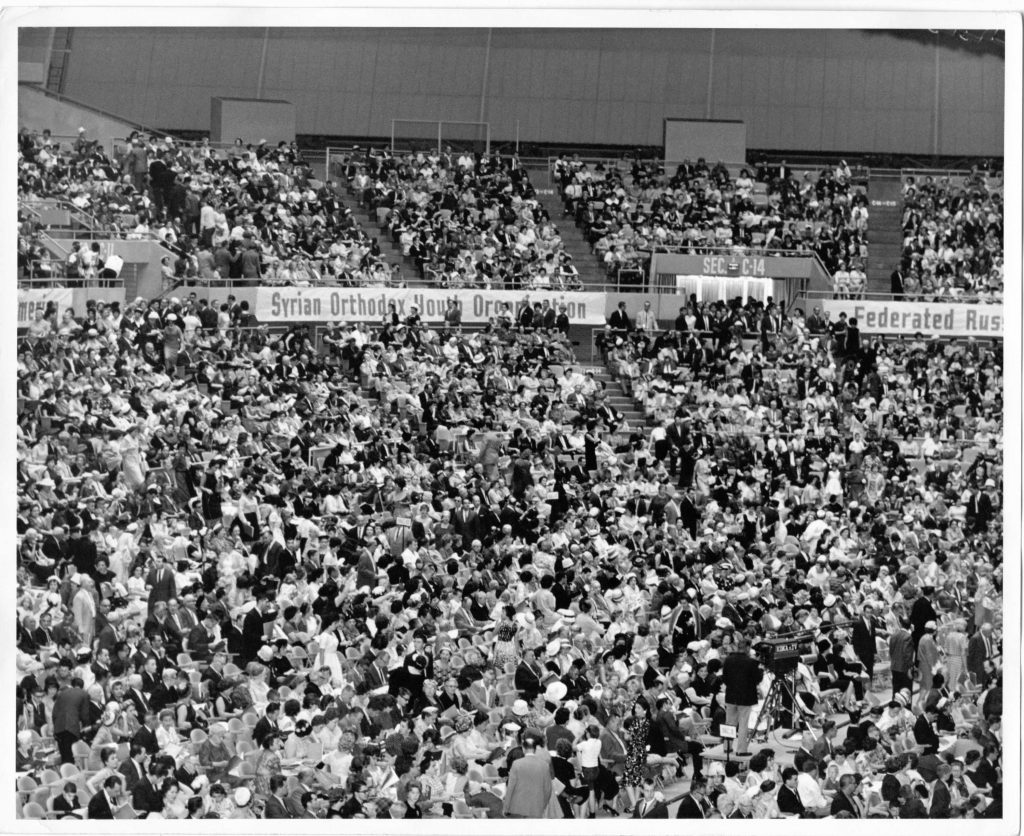 In 1963, between 11,000 and 13,000 Orthodox youth, from seven jurisdictions, came together for a pan-Orthodox festival in Pittsburgh. Ten bishops and more than 150 priests celebrated Vespers in an arena, and a thousand-person pan-Orthodox youth choir sang. This was the biggest pan-Orthodox event in American history, and most Orthodox Christians today are completely unaware that it happened.
The 1963 festival was just one of many achievements of a long-forgotten alliance of Orthodox youth leaders known as "CEOYLA" (which stood for the Council of Eastern Orthodox Youth Leaders in the Americas). CEOYLA was formed in 1954, when GOYA — the Greek Orthodox youth organization — organized a meeting of the leaders of the various jurisdictional youth organizations. This took place with the blessing of Archbishop Michael of the Greek Archdiocese — a man whose impressive legacy is mostly overshadowed by his larger-than-life predecessor and successor, Athenagoras and Iakovos.
CEOYLA was an amazing organization. Each jurisdiction had three representatives, which shared a single vote per jurisdiction. All decisions had to be made with unanimity. While the 1963 Festival was CEOYLA's signature event, the alliance had numerous other remarkable achievements, including:
It helped organize OCF chapters on college campuses across the country;
It participated in lobbying efforts to have dozens of state legislatures to recognize Orthodoxy as a "fourth major faith";
It helped get the "Eastern Orthodox" designation made available to military service members on their "dog tags";
It convinced the U.S. Chaplain Corps to admit Orthodox priests on equal footing with other religious groups;
It lobbied state adoption agencies to place Orthodox orphans and foster children with Orthodox families;
It designed a Leadership Training Program (the details of which I'm unaware of); and
It published the first authoritative directory of Orthodox churches in America.
In the 1960s, the alliance collectively oversaw nearly a thousand local chapters, with over 50,000 members. It worked to advance Orthodox religious education and was a prime advocate of Orthodox unity in America.
But if it is remembered at all today, it's for that amazing 1963 festival, which has never really been replicated. The festival took five years to plan, and the seven participating jurisdictions worked for years to coordinate their national conventions, to hold all of them in Pittsburgh simultaneously. There were no registration fees, and the cost to hold the event — in inflation-adjusted 2019 dollars — was just $60,000.
Archbishop Iakovos, a visionary in many respects, threw cold water on the 12,000 or so attendees at the 1963 festival, repeatedly telling them, in his keynote address, to "submit to your elders," and asserting that, among other things, Orthodoxy's "liturgical language," and not English, should be used in worship. CEOYLA was, in so many ways, ahead of its time. They tried to pull off another big gathering, and they did manage to hold one more pan-Orthodox festival in 1977, but in the end, the organization died out. And while it ultimately passed into oblivion and failed in its goal to unite Orthodoxy in America, it provides a compelling model for what might be possible if Orthodox young people become motivated to collaborate again.
[Most of this information came from original CEOYLA documents and materials. One person who appears to have been instrumental in preserving and organizing these materials is Ronald Andrei Muresan, past chairman of CEOYLA, who prepared a presentation on CEOYLA's history in 2010. I don't know Mr. Muresan personally, but I am grateful for his efforts.]