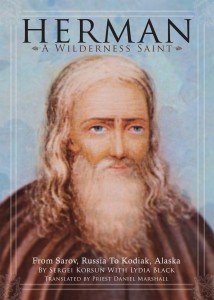 The following is a book review from our friend and colleague Nicholas Chapman:
Herman, A Wilderness Saint: From Sarov, Russia to Kodiak, Alaska is a new book that I think will be of interest to many readers of this web site. It has been translated from Russian and contains material not previously available in English, which only became accessible in Russia after the fall of communism. Through its use of primary sources such as letters and reports, St. Herman's life and character is revealed with startling clarity, together with many aspects of the wider Russian ecclesiastic mission to America of which he was an integral part. The three appendices bring the story of New Valaam up to our own time, offer details of the saint's canonization by both the OCA and ROCOR in 1970 and provide more biographical background to some of the eyewitnesses to the saint's life. The primary text is supported by easily referenced endnotes and rounded off by an index.
Of particular note for readers of this web site following previous articles published here will be the account of the martyrdom of St Peter the Aleut with a brief discussion of its historicity.
Further information about the book and how to order it in either print or digital formats can be found here. The monastery also published an earlier edition of this book in Russian, details of which may be found here. A look inside preview is available courtesy of Amazon here.